Welcome to my sewing studio!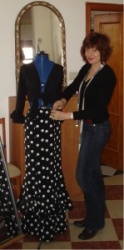 Can't find a flamenco dress you like that fits you well and flatters your figure?
The solution: Made to measure in my sewing studio based in Granada (Spain).
Flamenco dresses, flamenco skirts, tops, bata de cola, shirts, trousers and vests for women, men and children.
For samples check out the Gallery page.
My name is Anke Herrmann (in Granada I'm known as Angela). I am from Germany. In 2004, after years of working in Information Technology as a programmer I decided to leave the corporate world behind and turn a dream into reality: to combine two passions of mine - sewing and flamenco - as a dressmaker for flamenco artists. Now, my clients include flamenco schools, flamenco dance companies as well as numerous flamenco dancers and students.
I can help you if you are looking for:
a flamenco outfit custom made for you - a practice skirt for the first flamenco class or that special flamenco dress for an important performance in a big theatre;
personal advice for choosing the right fabric and design;
individual patterns based on your measurements and at least one fitting ensuring a perfect fit including sleeves that allow free movement.
After all, if you feel comfortable in your outfit and know you look your best you can concentrate on what you love most - FLAMENCO.
If you have any questions take a look at the FAQ page or Contact me.